21 Awesome Social Media Post Ideas That Work
Need some ideas for your social media marketing? Wonder no more! We've created a list of 21 social media marketing ideas that work great. Let's go…
Educational videos.
It's no secret or trend - video has taken over the internet and now makes up for 80% of internet traffic! My favourite kind are educational, 'how-to' style videos. These are great because they add real value, they position you as an expert, and they build trust with your audience.
Most of the time, it's best to keep them short and punchy (check out Gary Vee for examples). If you do have a longer one that's fine, you can chop it up into little snippets (more on this later!)
Keep in mind that you do NOT need a professional camera or videographer! In fact, professional video can sometimes be a negative because it looks too 'polished' like an ad. For more tips, check out our blog How To Create Eye-Catching Social Media Videos.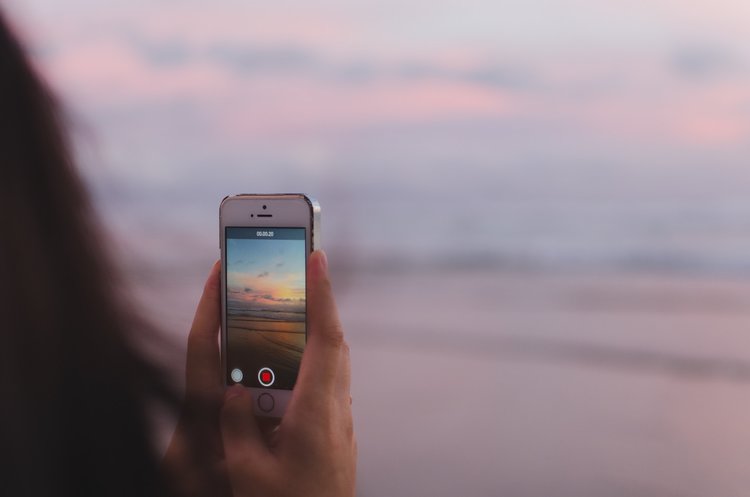 Make video a priority in your marketing!
Answer Your Most Commonly Asked Questions
I want you to think of your marketing as one, big, awesome FAQ section. Think about it…
If you're answering all of the problems and questions your customers ask in a detailed and creative way, you're going to be the obvious choice when they're ready to buy!
From both a usefulness-factor and also an SEO perspective (getting found on Google), answering the most common questions you get asked in either written or visual format always makes for great content.
Literally share what you tell people every day, so that customers can learn more about the topic and also your business. If people are really strapped for time or ideas - this is often my go-to suggestion!
Think of your marketing as one, big awesome FAQ.
Use Instagram Stories & Polls
Instagram Stories are probably my favourite marketing methods, and small businesses should be going hard on it! They allow you to humanise your brand, leverage native video content and market in the age that we live in. You can post:

Behind the Scenes Content - Tutorials, behind the scenes interviews, and daily happenings in the office are the kinds of things you can post.
Polls - The stickers also show a poll option - you can edit the question and the two options. This is a great way to get engagement. They also have a quiz option now with multiple answers.
Questions - Ask a question, and then share your responses to each one. You can also turn this into a Q&A Instagram highlight section.
GIFs - Spice up your Stories with moving gifs and fun animations. The possibilities are literally endless.
Promos - Announce new products or promos through Stories.
New Content - Links or new products, with the link button on the top of screen. This feature is only available in Instagram Business.
Funny Stuff - This adds the 'human' factor in your brand because all people experience funny things, right?
USE INSTAGRAM STORIES!
Long Form Captions & Emojis
Okay… this one is absolute GOLD. This completely skyrocketed our engagement rates. We went from 150 likes a post to over 600.
Most people give a little piece of advice with a nice photo, and occasionally link back to a blog. This is fine, but it's not awesome. You want to tell a story or add a LOT of value in a long-form caption, that is creatively written to keep the reader hooked. There are a few reasons this works:

Not many pages do this, so you can stand out and offer them something fresh.


The reader gets real value without having to do anything else (like finding a link in your bio)


Instagram wants its users to stay on Instagram, and since you aren't pointing people away from Instagram it will prioritise your post.
The easiest way to do this is recycling your existing blog articles (or transcribing your videos) into long captions. Then just break it up and make it conversational so it's easy to read. More on recycling content in a second!
Repurpose Content
This is one of our fave tips. Creating new content is important - but it's also time consuming.
One of the best ways to keep it fresh without giving yourself a full time content marketing job, is to repurpose your existing content into other mediums. For example…

Shoot and upload a video.

Transcribe the video into a blog.

Create 3 x Instagram quotes from the blog.

Create 3 x 30 - 60 second snippets of the video.
We won't go into too much detail because that's the gist of it, plus we wrote a full guide on how to turn 1 video into 10+ posts with the breakdown! Check it out out below.
How to Turn 1 Piece of Content in 10+ Epic Posts
Share Photos With People (Or Pets!)
People really like photos of other people. I don't know why, but they do! If you can, share photos of yourself, your customers, someone you met or whatever works. Not only does it help with engagement but it builds trust and makes you look relatable.
They also love pets. Who doesn't love a good doggo or a cat photo - hey if you can get people and pets together you've hit the jackpot!
The Mastered Marketing mascot… Mr. Wiz!
Inspirational Quotes
Ever been scrolling through Instagram and you saw a quote that just hit you right in the feels?
Quotes are timeless, and there are pages with million of followers that literally just post quotes. People love to feel inspired, and this is a great way to do it. The other cool thing is you can say 'double tap if you agree' or 'tag someone who needs to see this' to get more engagement.
Here's an example… with 1000+ likes, it's enough said!

Collaborate With Influencers & Similar Businesses
Collaborating is a great way to cross-promote your business with a new audience, and influencer marketing is one of the most undervalued marketing methods out there. It's more relevant for some businesses than others, but here's how you do it!
Influencers
Think about who you are trying to reach, and make a list of influencers who have that audience.


Create a list of influencers, and search hashtags to find popular accounts. Pro tip - see who's showing up in the 'popular' section.


Reach out to them. Make it personal, let them know you love their account, and you'd love to work with them.


You'll need to offer them either a gift (like a sample of your product) or sometimes just cash. Think about what they would want, and then what you could offer to make it worth your time and theirs.
Businesses
Sometimes influencer marketing isn't the perfect fit for you, or you're in a more 'boring' industry.
Have a think about similar businesses who have the same audience as you, but aren't competitors. For example if you're a real estate agent you can cross promote with an interior designer. Both audiences are interested in homes.
Testimonials & Case Studies
It's always a good idea to throw in a testimonial here and there to build social proof and promote your business. Just don't do too much of it, or you'll come across as pushy and not adding any real value.
The best way to do this is with a case study or a success story. Rather than just saying "hey I'm awesome" tell the story of what happened.
Name - What is the name of the customer/s?
Before - Where were they before they started the process?

Goal - What did they want to achieve?

Obstacles - What obstacles did they run into?

Help - Why did they come to you?

Turnaround - What did you do? (Go into detail)

Result - What was the end result?
If you say it this way, you're showing you're an expert without having to say you're an expert. You're also appealing to people's emotions and painting a relatable yet desirable picture. SO much better than just "People choose us".
Use case studies to show you're an expert without saying you're an expert.

Post Behind the Scenes Content
There are now more ads than ever. People hate ads. People like seeing what goes on behind the scenes, and getting to the know the people behind the brand.
The irony is, when you post casual, fun, behind-the-scenes content and promote it, it actually gets more engagement because it doesn't 'feel' like an ad. Instagram Stories are a perfect place to share this style of content, but you can share photos on Instagram, Facebook, YouTube… you name it!
Engage With People on Instagram
Engagement is the best way to grow your Instagram account, and is also one of the best ways to measure your Instagram's success.
Engagement is becoming harder and harder due to algorithm updates and general saturation - the best way to get engagement is to engage with others. There are bots that like, follow and comment on pictures, but we believe in genuine human interaction (it pays).
Search for a relevant hashtag, and join in the conversation with meaningful comments (not just a heart emoji, say something actually insightful).
Take 15 minutes to do this on 20 posts each day. This is the #1 way to build a community on Instagram. If you're not engaging with others, they won't want to engage with you! Simple as that.
For more tips on Instagram engagement, check out our blog.
If you're not engaging with others, they won't want to engage with you!
Ask Questions & Encourage Engagement
Since Facebook and Instagram dropped the bomb on us that they are giving personal accounts preference over businesses, it's all about creating 'genuine interaction'.
This means creating conversations with comments, and creating engagement. A great way to trigger this, is by asking your audience questions, and telling them to do something. For example:

"Would you pick _____ or _____?"

"What is your favourite _________?"

"What do you think? Let us know in the comments!"

"Tag a friend who _________"

"Double tap if you agree!"
Host an EASY Competition
This is a great strategy for Facebook & Instagram to get more fans and reach new people.
All you need is an attractive offer, a time limit and simple terms on how people can enter. However there are a few key things you need to keep in mind:

Have a great offer. It doesn't always have to be expensive, but make it an offer people would actually want to win, otherwise it won't work.

Don't be spammy. This is especially dangerous with the new algorithm where they penalise 'surface-level' engagement. It's still safe to do competitions and works great for local businesses, but don't be spammy.

Make it easy. If it's Facebook, ONLY ask them to like and share. If it's Instagram, do tap and tag. I see people run competitions and there are way too many things you need to do, resulting in way less engagement!
Keep your contests super simple or they won't work.
Jump on News & Trending Topics
If you're struggling for ideas about what to post, simply talk about what your customers are talking about.
When things are trending, share your thoughts on it and if you're really witty, you can create offers or campaigns around it.
This was the case with this classic tweet from Oreo during the Superbowl blackout a few years back, sharing a photo that said "you can still dunk in the dark" receiving well over 15,000 retweets.
Free Resources
This is a great way to not only add value, but build your email list. People also refer to this as a 'lead magnet' which is a way to get someone's email in exchange for a chunk of value. Good lead magnets include:
Cheat sheets (our fav)

Toolkits & bundles.

Swipe files & templates.

Checklists & cheat sheets.

Webinars & workshops.

Challenges.

Quizzes
We've got a bunch of free goodies on our resources page. But here's a perfect example - while you're here, download it so you know what it's about (plus it's awesome).
Recommendations
A quick and easy one - everybody loves a good recommendation. It can be work related (like sharing your favourite tech tools) or a personal recommendation (like your favourite cafe or local business).
You can also share your opinion on something. Perhaps a new book came out and you want to share your thoughts, or something is happening in the news (like the last point) and you want to recommend something people can use to make their life easier.
PS - I wrote an article on my personal blog which you can check out as an example. You could also turn each of these into 16 social media posts!
Simple!
Facebook Live Stream Events
Live streaming has taken off like a rocket recently, and can be a fantastic tool to get more views, engagement and page fans. This works particularly well for things like:

Entertainment

Sporting events

Home auctions

Interviews

Live Q&A

Countdowns

I encourage you to use Facebook Live because Facebook and Instagram gives preference to people who use the features they want to push out. And right now - that's live streaming!
Statistics & Facts
Statistics can be very useful for B2B industries. If you're in real estate, you can give stats about property. If you're in marketing, you can share stats about things like an increase in messenger bot open rates. If you're in cryptocurrency, you can share stats about market trends.
You get the point…
Whip up a design in Canva to make it look nice (we all know stats can be painfully boring if there's too much of them!).
Damien Cooley does a good job of this, sharing a little market summary with fun visuals.
Memes & GIFs
Another thing that everybody loves are memes. They're a quick, easy and fun way to inject a little humour into the feed. You can repost popular memes from around the web or make your own.
GIFs are also a really cool way to stand out of the feed. Stop motion looks awesome but it's difficult to do, and GIFs are a great alternative.
All you need to do is create the individual tiles in Canva, and then use a GIF creator to put it all together. It turns out looking like this!
Reverse Engineer the Best in the World
One of the simplest ways to kick butt online, is to literally do what the best people in the world do.
It's like investing - if you want to learn about the stock market, listen to Warren Buffet. If you want to grow your Instagram account for your specific industry, find the most popular accounts and do what they do!
Find the most popular accounts in your industry.

Take notes on what gets the best engagement.

Create 2 - 4 action items you'll do in your own business.
It's that simple. Go do it!
One of my all-time fav accounts. Look at what they're doing, and do it too!
Create a Messenger Bot
Messenger bots are a super-cool way to generate leads, create conversations and automate parts of your business. Luckily today there are tools like ManyChat to make your life a whole lot easier.
Not only can you create seemingly 'live' conversations with people, you can create some innovative marketing campaigns like 'comment the word YES to get a free (thing).
This works great if you already have a sales funnel and you want to test out a new platform. It's relatively easy to setup but can also get technical so we won't go into detail here but if you have questions just contact us!
Bonus Tips
We've shared a bunch of content ideas but I also wanted to share a few tips in general to improve your marketing!
Do Less Blogging, Better.
Blogging is a great way to both add value to your audience and also rank in Google. The problem is, people take this too literally and think 'the more the merrier'. Whilst it's important to share fresh content, you're much better off (especially from an SEO perspective) to put all of your efforts into 2 or 3 EPIC blog articles, rather than creating 20 average ones. For a detailed guide, check out this post.
Refresh Your Website & Branding
It's 2019 now and digital marketing has stepped up across the board. A website is a KEY piece of your marketing, and if it looks outdated or doesn't work correctly, you're literally throwing money out the window. Use your website like a 'dashboard' for your customers where they can learn about you, enquire about services and products, read content, get resources, the works. Definitely also read "10 Expensive Website Mistakes That Are Killing Your Business"
Run Cost-Effective Engagement Campaigns
Social media marketing is saturated with advertising - however, not many people are promoting legitimately useful, interesting or entertaining content! There's this gap in the market for content that has no commercial intent. Meaning - you're just sharing because it adds value. This is HUGE!
Not only will this give you WAY more reach for not much money, but you can retarget anyone who has recently visited your page. So if you did want to send ads to warmer traffic later, you can do that too. For more, check out Facebook Ads For Small Business Made Incredibly Simple
Use Canva for Engaging Visuals
If you want beautiful visuals and better artwork for your social media, check out Canva. This free and bloody awesome online tool is one of my most favourite tools I've used, and even if you suck at design you can easily find great templates to use for your marketing in all sorts of dimensions!
Schedule Content in Advance With Buffer
Spending time every day creating and sharing content can be tedious. Even if you like it, it can be incredibly time consuming! Use platforms like Buffer to schedule content ahead in advance, so you can do it in 'chunks'. For example you could do your posts for the week every Tuesday in 1-2 hours, then not have to touch it again for a week!
We've covered a lot!
So there you have it! You can pick and choose any of these ideas for your marketing. If you want to grow your social media faster and with less effort, check out our social media coaching program which we think you'll LOVE. Either way - happy posting and drop a comment with which ones you're going to try out!