80/20 Social: How to Get the MAXIMUM Results for MINIMUM Effort
Social media is becoming more and more difficult, while business owners are having less and less time! We recognised this trend, and built an entire strategy for fixing it. 80/20 is about focusing on the 20% of tasks that make up for 80% of your results, and in this article we break down the exact process we use for our business and our clients. This will help you get the maximum result from minimum input, and get great social media results without spending lots of time or money. Let's go!
Simplicity works.
Social media is so important and everybody knows that they should do it, but it can get overwhelming. And when you sit down at the end of the day, you don't want to be thinking, "Oh, now I have to post on my account", then you put something that's not great just to be 'active'. This formula is all you need to get plenty of results with minimum effort.
The 6 step formula.
The strategy is made up of 6 parts, and although it's simple, each step needs to be implemented if you want to get results! I'm going to break down each step but before I do, I thought I'd show you a diagram. So here's what it looks like! (if you're on a mobile pinch the screen to zoom in).

Strategy
The goal of the Strategy phase is to create a simple strategy that works, regardless of platform or algorithm changes. It's the underlying function of the entire process, to keep you on track and ahead of the game.
Without it you won't know where you're going, and even if you do get some results, you wouldn't even know because you don't know what you're trying to achieve! And finally, if you don't have a clear understanding of your customer, your marketing will completely flop.
1 Page Success Plan
We use a simple method for creating a one-page strategy to get everyone on the same page.

Goal: What are we trying to achieve?

Activities: How will we do it?

KPIs: How will we measure it?
Customer Avatar
Knowing your customer is the #1 most important thing when it comes to marketing. Everybody says this and knows this, but they don't do it correctly. Seriously… spend more time here, and you will save so much time down the track 'fixing' things that didn't work.

Who are they?

What are they like?

What do they want?

What questions do they ask?

What's their buying behaviour?

What is their current vs desired situation?

What's the customer buying journey?
Market Research
Market research isn't something you do once. You should have your finger on the pulse of the industry and regularly do market and competitive research for two reasons:
You can reverse engineer what's already working. You don't need to re-invent the wheel. There are companies with huge marketing budgets that do the heavy lifting for you. Who is the best in the world at what you do? Go on those accounts regularly, take notes on what they're doing and use the same strategies.
You can find gaps in the market. Reverse engineering is a great strategy, but sometimes nobody is filling a need that your customers have. You want to find those gaps in the market, and provide information your customers want that they can't get access to.
Pro tip - a great way to find gaps in the market is by going on Amazon, looking up books in your industry (e.g. for us we look up the top social media books) and reading the 3 star reviews. They say what the book was missing, and you can find great opportunities here!
Spend more time on your customer, to avoid fixing things that didn't work later on.
Plan
The goal of the Plan phase is to streamline your marketing and know exactly what to post. Without a plan you won't know what to share, and your marketing will be inconsistent.
List Hot Topics
Rather than talking about everything, what are the 3 - 6 things your audience wants more than anything else? The questions your customers are always asking. These are going to be your core topics. Keep in mind you want to give them what they want, not what you think they should have as a business. Pop these into your content calendar so you can easily find them.
For example when it comes to social media, we think more people need to focus on strategy and planning. But that's not the sexy part of what we do - people want Instagram engagement, Facebook ads, graphic designs etc. So that's what we give them!
Plan 4 Weeks Ahead
Without a content calendar, your content will be inconsistent and low quality (because you'll make a post just to try and be active). If you use a content calendar to plan out posts ahead of time, and then use a scheduling tool like Buffer, you will be much more organised.
If you're organised, you have more time and freedom to think of really cool content, instead of trying to think of something witty on the spot (which is never easy). Luckily for you we created an epic content calendar and you can get it for free at the end of this section!
2 x Core Posts Per Week
In your calendar you want to plan two core posts. You might ask "aren't you meant to post more often?" but there's a reason for this. Let me explain…
These AREN'T promotional, they are two epic posts with incredible visuals and a super practical, long-form caption.
These posts will get sponsored with an ongoing engagement campaign, so fresh weekly content is going out 24/7 to new audiences even if you're not posting (more on this soon).
You aren't limited to 2 posts. You can share more posts if you want, but you don't have to. As long as these 2 core posts are locked in, you can do whatever you like (more on this soon as well).
If you have questions don't worry it will be explained in a moment! Moving on….



Create
The objective of the Create phase is to create scroll-stopping content quickly and easily.
Pick Topic & Document
Now you have your hot topics, all you need to do is answer your audience's questions in your content. There are two important pieces here:
Choose a content format that comes naturally to you. If you like speaking , shoot videos. If you like writing, write blogs. If you like sharing thoughts on the fly, do Instagram Stories. If you have a really good idea, share amazing photos (we like doing this). Do whatever works for you and comes naturally, so it's easier to maintain.
Document instead of creating. Creating content is hard - documenting is easy! Rather than sitting down and thinking "what should I do", ask yourself "what happened this week that I can talk about?". Instead of trying to create content, use social media to broadcast what you're ALREADY doing.
Creating Content
For practicality, here are the different types of content you can create.
Artwork. Use Canva to create beautiful artwork and designs for each social media platform. For example, you can't just take a screenshot of a blog article and share it on Instagram. You need to create nice square artwork. Canva makes it super easy!
Videos. Videos are great if you can. Unless it's a YouTube video, in depth tutorial or a Q&A style session, try to keep your videos as short and sharp as possible. People tune out really quickly, so you don't want to waffle. Also, you can only post 60 seconds of video on Instagram, so try keep them sharp. Check out this article about making videos.
Blogs. In today's world, most people generally prefer videos but I am still a big fan of blog articles. Think about what your audience wants to know the most, and create blogs on those topics, going into detail and providing real value. Here's a free blog template.
Make sure to add emoji's and line breaks to the captions to make it easy to read!
Use SUPER Engaging Visuals
Visuals are everything, and this strategy won't work if your visuals suck. Your content needs to POP right out of the feed. Something you'd stop scrolling for even without reading the caption. Spend a few extra minutes finding the right visuals, editing a piece of artwork or improving a video (it's worth it).
Create a mood board for how you want your brand to look. E.g. Mastered Marketing is very fresh, relaxed and fun. We use lots of beach photos, colour and happy images to create a fun and approachable style.
Your visuals should POP out of the feed.
Repurpose Content
The idea of this strategy is to get max results with minimal effort, so you obviously need to be productive. One of the best ways to be productive is by repurposing your content into other platforms. So rather than thinking "how am I going to create so much new content all the time?!" just repurpose it and recycle it. Let me explain with an example…
Most people make a video and that's it. Then they can't be bothered making more, and the whole process gets delayed. Rather than creating lots of videos, we're going to squeeze everything we can out of a video. Here's an example:

Transcribe the video and turning it into a blog article.

Create 30 second snippets of the video.

Create a tile with the blog title with Canva.

Create artwork for Instagram Stories.

Create 3 - 6 quotes from the article.

Create 3 micro-blogs with long-form captions.

Schedule posts for following months with Buffer.
There's all sorts of stuff you can do. I went into this in detail in my other article How to Turn 1 Piece of Content in 10+ Epic Posts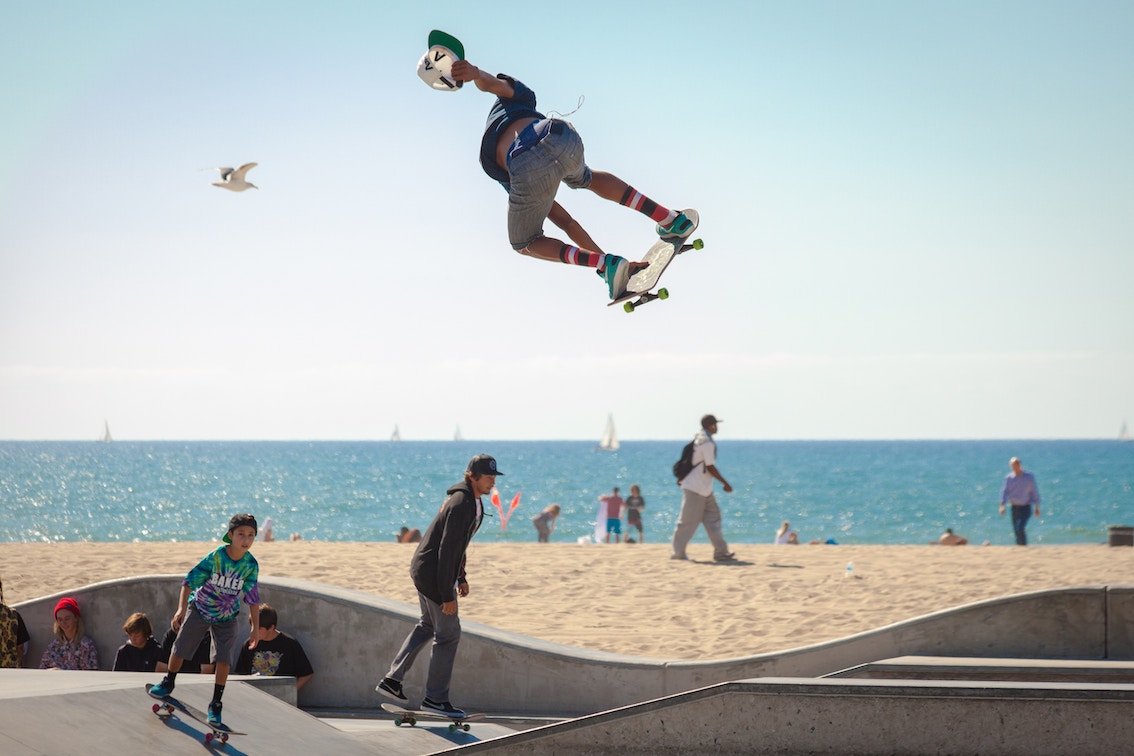 Squeeze more out of your content by repurposing it into other mediums.
Share
The goal of the share phase is to post like a pro and connect with your audience. If you don't use each platform correctly you'll hamstring your growth. If you use scheduling tools you'll be able to streamline your marketing even more, and automate a large chunk of your marketing.
Long Form Captions
This one tip skyrocketed our engagement. We went from getting 120 likes a post to literally 600+ and lots of shares on Facebook. Most people give a little piece of advice with a nice photo and a quick tip. This is fine, but it's not awesome. You want to tell a story or add a LOT of value in a long-form caption, that is creatively written to keep the reader hooked. There's a few reasons this works:

Not many pages do this, so you can stand out and offer them something fresh.
The reader gets real value without having to do anything else (like finding a bio link).
Instagram wants users to stay on Instagram, and since you aren't pointing people away from Instagram it will prioritise your post.
This is where repurposing can be super handy again. You can copy-paste parts of your blog as a long caption, then break it up to make it conversational and it's easy to read. The easiest way to explain this is with an example. Check out this post where we go into detail about recycling content!
Schedule Posts 2 Weeks Ahead
Using tools like Buffer, you can schedule posts ahead of time to make life a whole lot easier. It's just like regular posting, you select the platform, upload the visuals and caption, then click 'Add to Queue' which will instantly add it as the next post in line, or you can schedule for a custom time.
Quick tip - by default, Buffer automatically sets your scheduling times. You'll want to change this, simply go to Settings → Posting Schedule and pick the ones that work for you. Monday, Wednesday and Thursday which are best days for engagement, either at 12pm (lunch time) or 7pm (after work).
Share Extra Posts On The Go
You can definitely share extra posts if you want, but you don't have to. When ideas pop into your head or you want to share a snippet of your day, go for it! You can either share it on the fly, or schedule them with buffer.
This is also where Instagram Stories are fantastic. Since your core posts are created and scheduled you'll have some spare time, and I encourage you to use stories to keep documenting what you're already doing.
Stories are a perfect place to share a quick thought, ask a question or share some behind-the-scenes content. They are the bomb, they will skyrocket your profile views and you'll connect with your audience.
Promote
The objective of the Promote phase is to explode your reach with cost-efficient social media ads. Ads can completely explode your growth and if you you don't leverage them, you're missing the biggest opportunity in small business history. Plus when done correctly, this can minimise your time required for social media even more.
Boost Both Core Posts Each Week
With everything created, you want to boost both of your core posts. $5 per day is fine to start, and you can scale up if you want to. When you do this, your best content will be reaching new prospects every day even if you aren't posting on your page!
Once a week just turn the old ones off, and turn the new ones on. This way, there is always fresh content going out. You're getting in their faces, you're getting in the feeds and you're establishing yourself as an authority, while you have more time to focus on other things. Productive much?


Monitor Lead Gen Ads
There's two main parts to social media. Brand Awareness (sharing content and building a community) and Lead Generation (getting subscribers and leads into your marketing funnel). As such, it's a good idea to have ongoing lead generation ads.
The best way to do this is sending website traffic to an epic free resource (like a cheat sheet, swipe file or video training) that they need to opt in to (also known as a lead magnet). Once they opt in, they get sent to an automated email sequence to take them through the buying journey.
You only have to do this once, then whenever someone signs up they get your emails! This attracts and nurtures leads on autopilot, all you need to do is keep an eye on the ads.
If you want a hand setting this up then send us a message!
You only have to
set up a marketing funnel once!
Attract and nurture potential leads on autopilot.
Socialise on Instagram
Socialising with people on Instagram is a great way to build a community. What you want to do is search for a relevant hashtag (e.g. #brisbanebusiness) and join in the conversation with meaningful comments (not just a heart emoji, say something actually insightful).
Take 15 minutes to do this on 20 posts each day. This is the #1 way to build a community on Instagram. If you're not engaging with others, they won't want to engage with you! Simple as that. For more tips on Instagram engagement, check out our blog here.
Optional - Run quarterly competitions.
Like and share competitions are the bomb if you want to get reach in your local market. If you want, you can do one of these once a quarter and give away something worth at least $100 or more (otherwise it's not attractive enough to get a lot of buzz). You can do holiday themed giveaways (like a Christmas hamper), events (like Melbourne Cup), trends or even just a $100 voucher.
Either make the terms 'like and share this post to enter' or 'comment with _______ to enter'. DON'T ask them to do too much or it won't work. These competitions go off, spend $50 on it with Facebook ads and you're going to reach 3000+ people for barely any money because they get shared so much, the organic reach goes off the charts.
Ads allow you to reach prospects every day, even if you aren't posting.
Review
The objective of the Review phase is to cut through the noise to do more of what works, and less of what doesn't. If you don't track progress, you won't be able to make smart decisions. Plus, it doesn't take long!
Review Analytics
At least once a month, you want to have a look through your analytics. Find things like:
What content worked well?

What content didn't work?

How much website traffic did we get?

Are our followers increasing?
Analytics can be overwhelming, you just need to know what you're looking for. That's why we outlined the success metrics in phase one, Strategy. Go through your analytics and check progress for those metrics.
Optimise Lead Gen Ads
Boosting posts and rotating them weekly takes care of itself, so you don't need to optimise those (other than making sure your content is good). If you're running lead gen ads, optimise them at least once a month. Make optimisations like:
Scale up ads that are working.

Fix ads that aren't working with new images, text or offers.

Improve your landing pages to get better opt in rates.

Test new offers and traffic sources.
Create an Action Plan
So you've reviewed the analytics… what now? Put together an action list of things you're going to implement for the following month. Keep doing this to have steady, sustainable results.
. . .
That's the 80/20 formula! If you follow this you will get great results. If you've got any questions feel free to reach out any time, and if you'd like a hand with your social media just click that button below!